Trump on Asia: what he's said and where he stands
President-elect has strong views on issues ranging from China's 'currency manipulation' to the possibility of a nuclear-armed Japan

PUBLISHED : Wednesday, 09 November, 2016, 10:56pm
UPDATED : Wednesday, 09 November, 2016, 11:22pm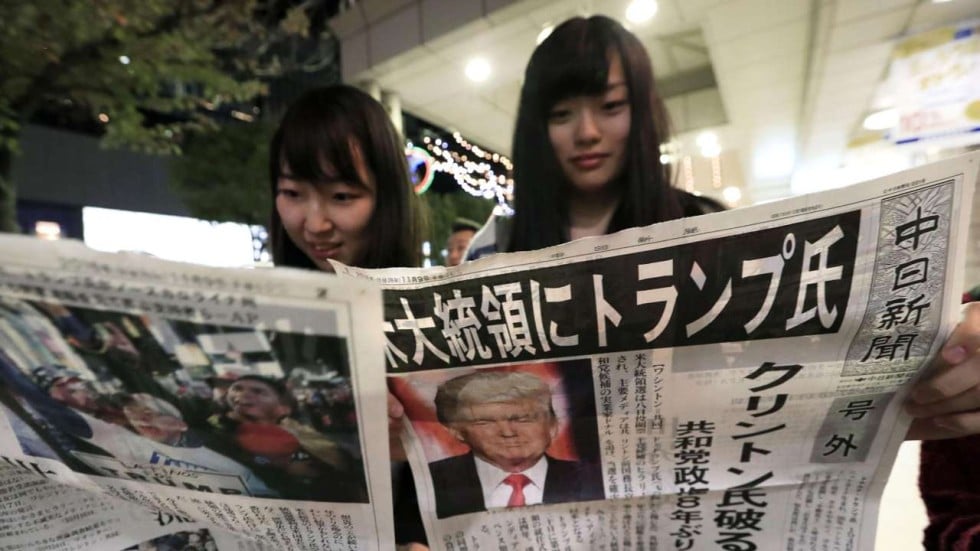 US president-elect Donald Trump spoke during the campaign about a number of countries and concerns in Asia. Here is a summary of his views:
Trade
Trump plans to increase the number of manufacturing jobs in the US by reducing its trade imbalance with Asian countries. He has pledged to raise tariffs and put pressure on countries exporting to the United States that devalue their currencies.
Trump has vowed to raise tariffs by up to 45 per cent on Chinese imports, to stop Beijing from dumping products such as steel and garments.
He has called China's entry into the World Trade Organisation a "disaster", saying it caused the US to lose 70,000 factories, which the president-elect dubbed "the greatest job theft in the history of the world".
"I have a great relationship with China," Trump has said. "But we are going to stand up to China on its massive currency manipulation."
He has said he would favour bringing trade cases against China.
Trump also accused China of infringing intellectual property rights, saying he would "uphold intellectual property laws and stop their [China's] unfair and unlawful practise of forcing US companies to share proprietary technology with Chinese competitors as a condition of entry to China's market".
He also planned to reduce US debt so "China cannot blackmail us with our own Treasury bonds".
Trump said Japan and Vietnam have also stolen jobs from the US as a result of currency devaluation.
As for South Korea, Trump has criticised a bilateral free-trade agreement, claiming it has destroyed almost 100,000 American jobs.
Trans Pacific Partnership
With his protectionist stance, Trump opposes the Pacific Rim deal, which would set up a free-trade zone among 12 countries, but excludes China."It's a terrible deal for the United States. It's a terrible deal for our workers," he said.
US President Barack Obama's administration has argued the deal would strengthen the US position in Asia and balance China's rise. If the treaty is ratified during Obama's term, Trump still has the authority to withdraw the US from the deal.
South China Sea
Trump is opposed to China's territorial ambitions in the South China Sea. He once said China had been building "a massive fortress" in the South China Sea because it had no respect for the US.
"They have no respect for Obama, they have no respect for our country, and they're getting away with murder."
And his running mate Mike Pence has said that Trump would bring an end to "the kind of posture in the world ... that has the Chinese building new islands in the South China Sea".
Trump has suggested he would use trade policies as leverage to halt Beijing's activities in the disputed waters. "We have trade power over China."
US presence in Asia
Trump has been ambiguous about the role the US should play in Asia. He suggested boosting the American military presence in the region on some occasions, but talked about cutting spending on defending its Asian allies on others.
Trump has called for a strong military presence as "a clear signal to China and other nations in Asia and around the world that America is back in the global leadership business".
On his website, Trump vowed to "strengthen the US military and [deploy] it appropriately in the East and South China Seas" to "discourage Chinese adventurism that imperils American interests in Asia".
He also said the Philippines had left for the orbit of China and Russia because American leadership was too weak.
However, Trump has also said the US should renegotiate its agreement to defend its Asian allies.
He told The New York Times he would withdraw US troops from Japan and South Korea if they did not increase their payments to maintain the forces.
"We have to renegotiate these agreements, because our country cannot afford to defend Saudi Arabia, Japan, Germany, South Korea, and many other places."
Trump also said he would be open to allowing the two countries to have their own nuclear weapons.
"If Japan had that nuclear threat, I'm not sure that would be a bad thing for us."
North Korea
Trump has said China, instead of the US, should step up the pressure against North Korea on nuclear threats. He said the North Korean nuclear crisis was "China's responsibility" and "China's problem to fix" and claimed: "China is totally powerful as it relates to North Korea. … China should solve that problem for us."
Pence mentioned in an interview with CNN the need for "sitting down with China" to make Beijing rein in North Korea. "He [Trump] knows how to sit down with people," Pence said in the same interview. "I would get China to make that guy [North Korean leader Kim Jong-un] disappear in one form or another very quickly," Trump told US broadcaster CBS in February.
Cybersecurity
Trump claims cyberattacks from foreign governments, especially China and Russia, "constitute one of our most critical national security concerns" and vowed to ratchet up US deterrents against Chinese cyberthreats.
"We will enforce stronger protection against Chinese hackers and counterfeit goods and our responses to Chinese theft will be swift, robust and unequivocal".
He has vowed to make the American military the world's best at cyber offence and defence. "The United States must possess unquestioned capacity to launch crippling counter-cyberattacks," he said in October. "This is the warfare of the future. America's dominance in this arena must be unquestioned."
Climate change
Trump once dismissed climate change as a hoax invented by the Chinese and said he would abandon the Paris agreement if elected.
"The concept of global warming was created by and for the Chinese in order to make US manufacturing non-competitive," he said in a tweet in 2012.
Trump said the Paris pact was "bad for US business" and allowed "foreign bureaucrats control over how much energy we use".
Chinese officials have condemned Trump's threat to back out of the Paris accord.
Human rights in China
Trump is perceived as less tough on China over human rights, as he rarely attacks Beijing over its political system. Trump once called the 1989 Tiananmen protest a "riot."
"I was not endorsing. I said that is a strong, powerful government that put it down with strength. And then they kept down the riot. It was a horrible thing."
In addition, Trump said multiple times that Chinese leaders were smarter than their counterparts in the US. "China is wonderful ... they are smart people. We don't have smart people running our country."
This article appeared in the South China Morning Post print edition as:
President-elect has pulled no punches with views on Asia