Hi,
Around the globe there are currently thousands of territories where corporations have free rein to operate unimpeded by labor protections.
These "special economic zones" (SEZs) have been carved out by governments and handed over to foreign investors over the past 50 years. They are currently scattered over more than half of the world's countries and employ upwards of 66 million people — mainly young migrant women.
Press access to SEZs is often strictly regulated. But In These Times journalists Matt Kennard and Claire Provost gained entry to three of these zones — and found a paradise for corporations, but a wasteland for workers' rights.
You can read our major investigation into labor abuses in SEZs here: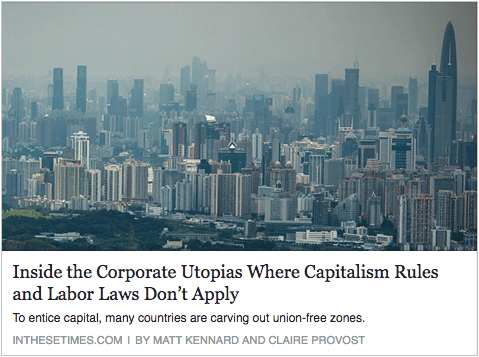 From our reporters' research into SEZs and on-the-ground-reporting — including first-hand interviews with dozens of workers — we found that:

— SEZs offer multinationals zones of tight corporate control, with countries providing a compliant, non-union workforce.
— Workers describe routine retaliation for labor organizing. As one Cambodian worker said: "If the employer knows that I work for or am affiliated with the union, it means they will find any means to dismiss me."

— Six multinationals reported to operate in Cambodian SEZs (including Apple and Puma) did not respond when asked if they were aware of the de facto ban on unions. Two (Skechers and Levi Strauss) denied manufacturing goods in Cambodian SEZs, despite evidence to the contrary.
In the face of this crackdown on organizing and labor law, In These Times also found workers who continue to bravely fight for their right to organize.
This is a critically important story for anyone who cares about the global fight for workers' rights. Read it here:
You can help us make sure this story gets the most attention possible by sharing it far and wide.
Thank you.
In solidarity,
Miles Kampf-Lassin
Community Editor
---
In These Times
is a reader-supported, independent progressive publication.
Make a tax-deductible donation today
to help
In These Times
continue to report the stories that mainstream, corporate media outlets don't want you to see.