Last update 17:56 | 02/06/2017
International community lauds Vietnamese PM's US visit
The international community has given positive assessments of Prime Minister Nguyen Xuan Phuc's official visit to the US from May 29-31.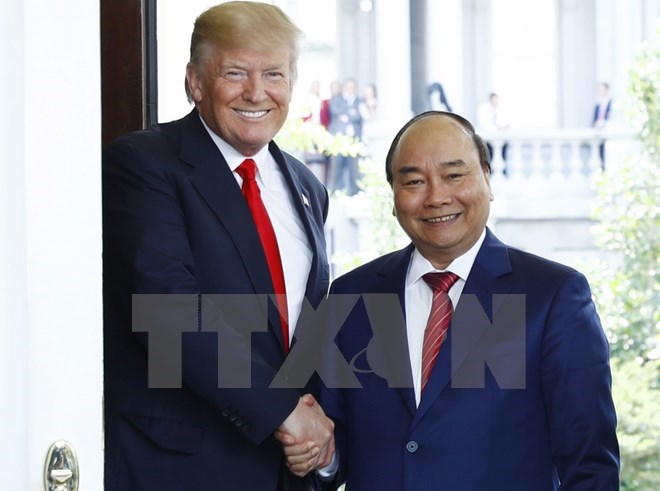 President Donald Trump welcomes Prime Minister Nguyen Xuan Phuc at the White House
Prof. Carl Thayer from Australia said that the visit was a success, showing the positive external policy and great efforts of Vietnam, opening up a new period in the relationship of the two former enemies.
He said that agreements worth billions USD created a favourable atmosphere, adding that President Donald Trump reacted positively.
Prof. Thayer noted that President Trump announced that trade was the leading issue in the discussion agenda between the two sides. It was also among top areas mentioned in the joint statement which he asserted that stated equally the interest of both sides.
The researcher said that Vietnam was flexible and proposed methods that US businesses can increase exports to Vietnam amidst the US's trade deficit with Vietnam was about 32 billion USD.
Vietnam has now been clear about the orientations of the partnership with the US in the coming years, he said, holding that Vietnam can still multilateralise and diversify its bilateral relations when learning that the US maintains its commitments to comprehensive partnership with Vietnam and that it will still pay attention to Southeast Asia, said Thayer.
Meanwhile, the Radio France International (RFI) commented that the official visit of Prime Minister Nguyen Xuan Phuc to the US was successful.
Washington and Hanoi have agreed to strengthen their defence and military cooperation, while stressing the need to respect the maritime and aviation freedom in the East Sea and protest all actions to militarise the region.
VNA