Eye-Opening Statistics on Global Wealth 2017
They say that money makes the world go round. But, when it comes to income and wealth, there are huge disparities in the world. While the standard and cost of living is high in first world countries, much of the third world suffers entrenched, but improving, poverty. There are some nations where the state intervenes to redistribute wealth 'fairly', and other nations where innovative risk takers and hard workers are lavishly rewarded. Here we've collected the latest data from 2015-2017 to show exactly who's hands the world's wealth is in. First we'll look at the general distribution of wealth, then we'll show you the 10 richest men and 10 richest nations in the world
How the World's Wealth Is Distributed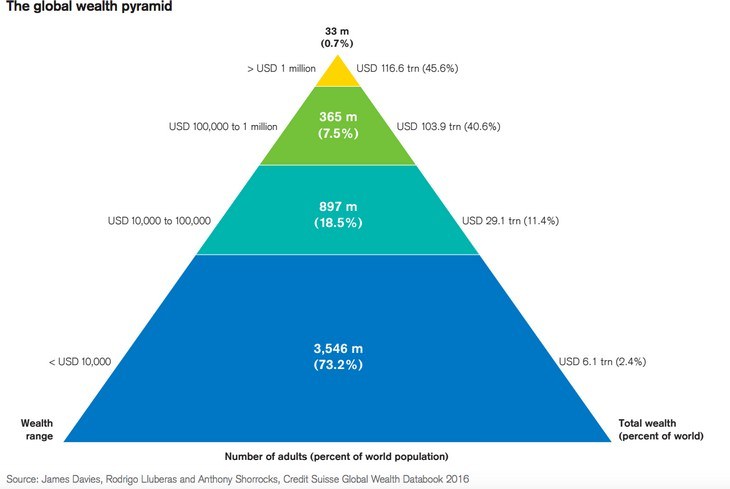 image
The above pyramid indicates the wealth of the world's adults. The largest group encompasses 73% of the population. They possess less than $10,000 each, totaling just 2.4% of the world's wealth. The smallest group contains 0.7% of the world's population. These people have wealth above $1 million each, which comes to a whopping 45.6% of the world's wealth.
To find out where you are on the global pyramid, enter your details into this calculator.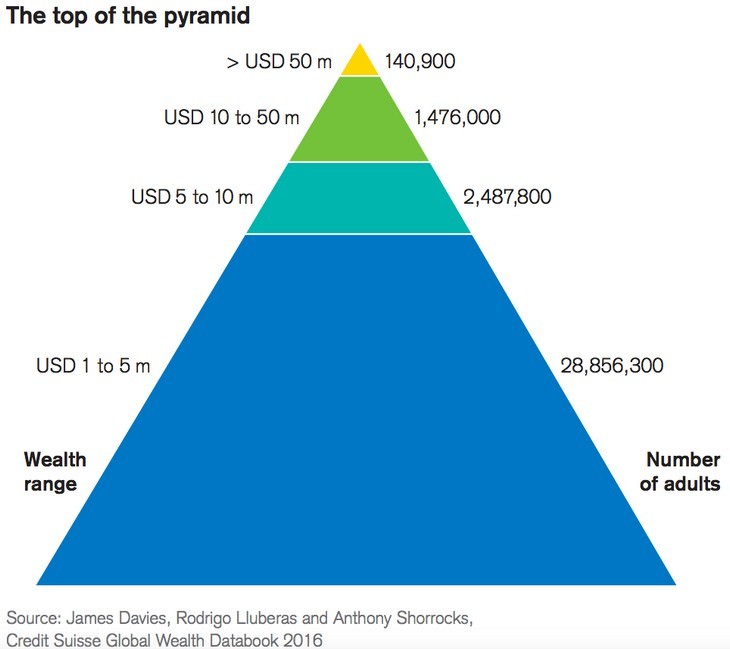 image
Among the world's $ millionaires, there is also great disparity. The largest group by far have between $1 million and $5 million. The tiniest group of all have more than $50 million. There are just over 140,000 individuals in this group, in the entire world.
From this group, let's take a closer look at the top 10 richest people in the world for 2017, according to Forbes magazine.
Forbes Top 10 Billionaires
1. Bill Gates
Net worth: $86 billion
Age: 61
Nationality: United States
Sources of wealth: Microsoft
Bill Gates has been the richest person in the world for 18 of the past 23 years. He stepped down as Microsoft chairman in 2014 and sells shares regularly. He now only owns 2.3% of the company, accounting for 13% of his wealth. He spends much of his time devoted to the Bill and Melinda Gates Foundation.
2. Warren Buffett
Net worth: $75.6 billion
Age: 85
Nationality: United States
Sources of wealth: Berkshire Hathaway
The son of a U.S. congressman, Buffet bought his first stock aged 11, filing taxes aged 13. He has promised to donate over 99% of his wealth to charity, having so far given away $28.5 billion. He owns more than 60 companies and is hailed as among the most successful investors in history.
3. Jeff Bezos
Net worth: $72.8 billion
Age: 53
Nationality: United States
Sources of wealth: Amazon.com
Raised by his mother and Cuban immigrant stepfather, Bezos quit a high paying job in 1994 to sell books online. His idea grew into the megalithic company Amazon.com. He owns 17% of Amazon today, and in 2013 he purchased the Washington Post. His dream is to make space travel a reality for passengers.
4. Amancio Ortega
Net worth: $71.3 billion
Age: 79
Nationality: Spain
Sources of wealth: Inditex, Zara
Ortega is Europe's wealthiest individual, having co-founded with his late wife, Rosalia Mera the fast fashion company Inditex (parent company of Zara). He owns a vast real-estate portfolio with properties all over the world.
5. Mark Zuckerberg
Net worth: $56 billion
Age: 32
Nationality: United States
Sources of wealth: Facebook
Zukerberg founded Facebook in 2004 when aged just 19. The company's stock price has soared in recent years, sending his personal wealth through the roof. He and his wife Priscilla have pledged to give up 99% of their Facebook stake eventually.
6. Carlos Slim
Net worth: $54.5 billion
Age: 76
Nationality: Mexico
Sources of wealth: America Movil, Grupo Carso
Carlos Slim and his family run Amierca Movil, which is Latin America's largest mobile telecom company. He is also a partner in many ventures, including a 17% stake in the New York Times.
7. Larry Ellison
Net worth: $52.2 billion
Age: 71
Nationality: United States
Sources of wealth: Oracle Corporation
In 1977 Ellison co-founded Oracle, a software company with a mission to create a customer relationship management databases. He never graduated from college.
8. Charles Koch
Net worth: $48.3 billion
Age: 80
Nationality: United States
Sources of wealth: Koch Industries
CEO of Koch Industries, America's second largest private company, Charles Koch is on this list with his younger brother David. The company was founded in 1940 by the brothers' father, Fred.
9. David Koch
Net worth: $48.3 billion
Age: 75
Nationality: United States
Sources of wealth: Koch Industries
David shares a majority stake in Koch Industries with his elder brother, Charles. In 1980 he ran as a vice-presidential candidate for the Libertarian Party.
10. Michael Bloomberg
Net worth: $40 billion
Age: 74
Nationality: United States
Sources of wealth: Bloomberg L.P.
Beginning aged 15 as an entry level employee with Wall Street bank Salomon Brothers, Bloomberg founded the media and financial information company Bloomberg LP in 1981. He has donated millions of dollars to causes which he is in favor of, such as gun control and climate change action.
According to data from the previous year (2016), the world's 10 richest men have a combined GDP greater than nations such as Nigeria, Belgium, Norway, Austria and others.
Where Do the World's Super Rich Come From?
Data from 2015 shows that a great number of the world's millionaires are from the USA (46%). The next most millionaire friendly countries are the UK (7%) and Japan (6%). Furthermore, of the world's top 10 richest men, 8 are from America. Yet, while this might lead one to believe that America is clearly the wealthiest nation of all, according to the International Monetary Fund's 2017 assessment of the 10 richest nations by GDP per capita, this is not the case.
Top 10 Richest Countries in the World 2017 – IMF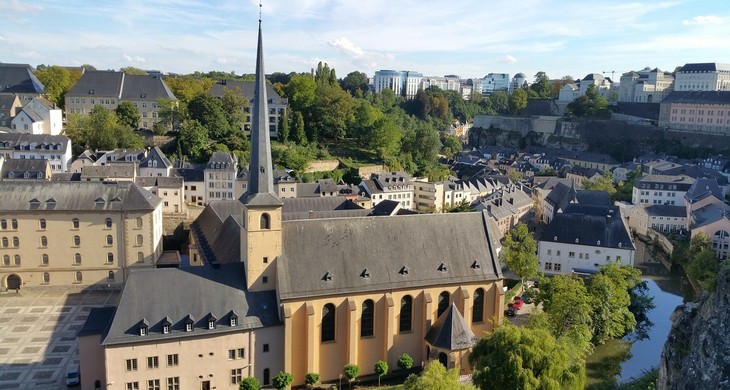 1. Luxembourg
GDP per capita: $101,994
With a tiny population of just over half a million, Luxembourg is dependent on banking, steel, and industry. It's central European location between Belgium, France, and Germany has helped it carve out a key role for itself in the EU, becoming the capital city for the European Courts of Justice.
2. Switzerland
GDP per capita: $80,675
The Swiss long-lasting policy of monetary security and political stability have helped forge an economy that's reliant on regular foreign investment. The nation only has a population of 8 million.
3. Qatar
GDP per capita: $76,576
70% of the Arab peninsula country's government revenues come from petroleum and liquefied natural gas, cornerstones of Qatar's economy. The population is just over 2 million.
4. Norway
GDP per capita: $74,822
With a small population of 5 million, Norway has a high GDP and low unemployment rate. Its mixed economy has some state-ownership in strategic areas, and can withstand global business cycles fairly well.
5. United States
GDP per capita: $55,805
A vast continental nation, America has a large population of 320 million. It's the world's biggest national economy, has huge natural resources, and is one of the largest trading nations, with one of the most important financial markets.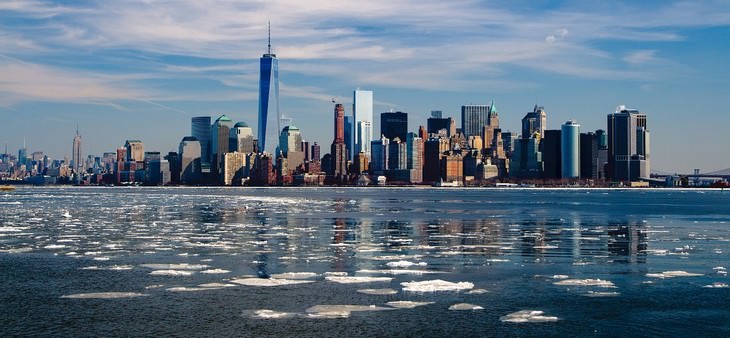 6. Singapore
GDP per capita: $52,888
Singapore's low tax rates and high per-capita GDP make it a highly developed trade based market economy. The population of this island city state is a mere 5.4 million
7. Denmark
GDP per capita: $52,114
With a high dependence on foreign trade, Denmark (population 5. 6 million) relies heavily on its human resources. As a modern market economy, Denmark features high-tech farming and good living standards.
8. Ireland
GDP per capita: $51,351
With around 4.5 million inhabitants, the Celtic Tiger punches well above its weight with a modern knowledge economy model. The nation gains much of its wealth through services and high-tech industries. A 2005 Economist study named Ireland as the country with the best quality of life in the world.
9. Australia
GDP per capita: $50,962
With a relatively small population of 23 million, Australia operates one of the world's biggest mixed economies. Its private sector comprises 68% of GDP. The standard of living is high, and the life expectancy is just over 82 years.
10. Iceland
GDP per capita: $50,855
With a small population of 323,002, Iceland has a highly volatile mixed economy. Whereas other Nordic countries have large governments, Iceland tries to combine free trade with small occasional government intervention.
The Gap Between Middle and Upper Classes
Compared to the average family, the top 5% have 90 times more wealth, in the USA. This ratio dwarfs the relative disparities in other first world nations.
According to data from 2015, in leading first world nations around 50% to 40% of the wealth is held by the middle classes. The best examples are the Netherlands and Japan. In the United States, the world's leading wealth maker, the middle class holds just under 20% of the national wealth.
Another graph shows the average adult's wealth in the United States is much lower than that of other first world nations, such as Belgium and the UK, where the middle class do better.
BONUS VIDEO: Bill Gates and Wife Discuss Giving Away Their Wealth